Congratulations to Patrick Moldowan for our publication in Global Change Biology on "Climate associated decline of body condition in a fossorial salamander".
Abstract of the study below:
Temperate ectotherms have responded to recent environmental change, likely due to the direct and indirect effects of temperature on key life cycle events. Yet, a substantial number of ectotherms are fossorial, spending the vast majority of their lives in subterranean microhabitats that are assumed to be buffered against environmental change.
Here, we examine whether seasonal climatic conditions influence body condition (a measure of general health and vigor), reproductive output, and breeding phenology in a northern population of fossorial salamander (Spotted Salamander, Ambystoma maculatum). We found that breeding body condition declined over a 12-year monitoring period (2008–2019) with warmer summer and autumn temperatures at least partly responsible for the observed decline in body condition.
Our findings are consistent with the hypothesis that elevated metabolism drives the negative associa- tion between temperature and condition. Population-level reproduction, assessed via egg mass counts, showed high interannual variation and was weakly influenced by autumn temperatures. Salamander breeding phenology was strongly correlated with lake ice melt but showed no long-term temporal trend (1986–2019).
Climatic warming in the region, which has been and is forecasted to be strongest in the summer and autumn, is predicted to lead to a 5%–27% decline in salamander body condition under realistic near-future climate scenarios. Although the subterranean environment offers a thermal buffer, the observed decline in condition and relatively strong effect of summer temperature on body condition suggest that fossorial salamanders are sensitive to the effects of a warming climate.
Given the diversity of fossorial taxa, heightened attention to the vulnerability of subterranean microhabitat refugia and their inhabitants is warranted amid global climatic change.
This study resulted from the PhD research of Patrick Moldowan, working with Dr. Njal Rollinson (U of Toronto) and myself. The research emanated from a long-term monitoring project called BLISS (https://tattersalllab.com/bliss/) that was initiated at various times in the past, with an objective to monitor mole salamanders (Spotted Salamanders, Ambystoma maculatum) in a pristine environment, for potential changes over time in population, phenology, reproductive output, and morphology.
I first met the Bat Lake salamanders in 1993, being introduced to the field site by a generous Dr. James Bogart who trusted me enough to leave me alone for 4 months to conduct research on an NSERC USRA project. I really want to thank Jim for sending me to this place where the field site captured the imagination, was a retreat from the urban life, and a crash course in wildlife ecology.
Here is a link to the paper http://doi.org/10.1111/gcb.15766 or request access from researchgate.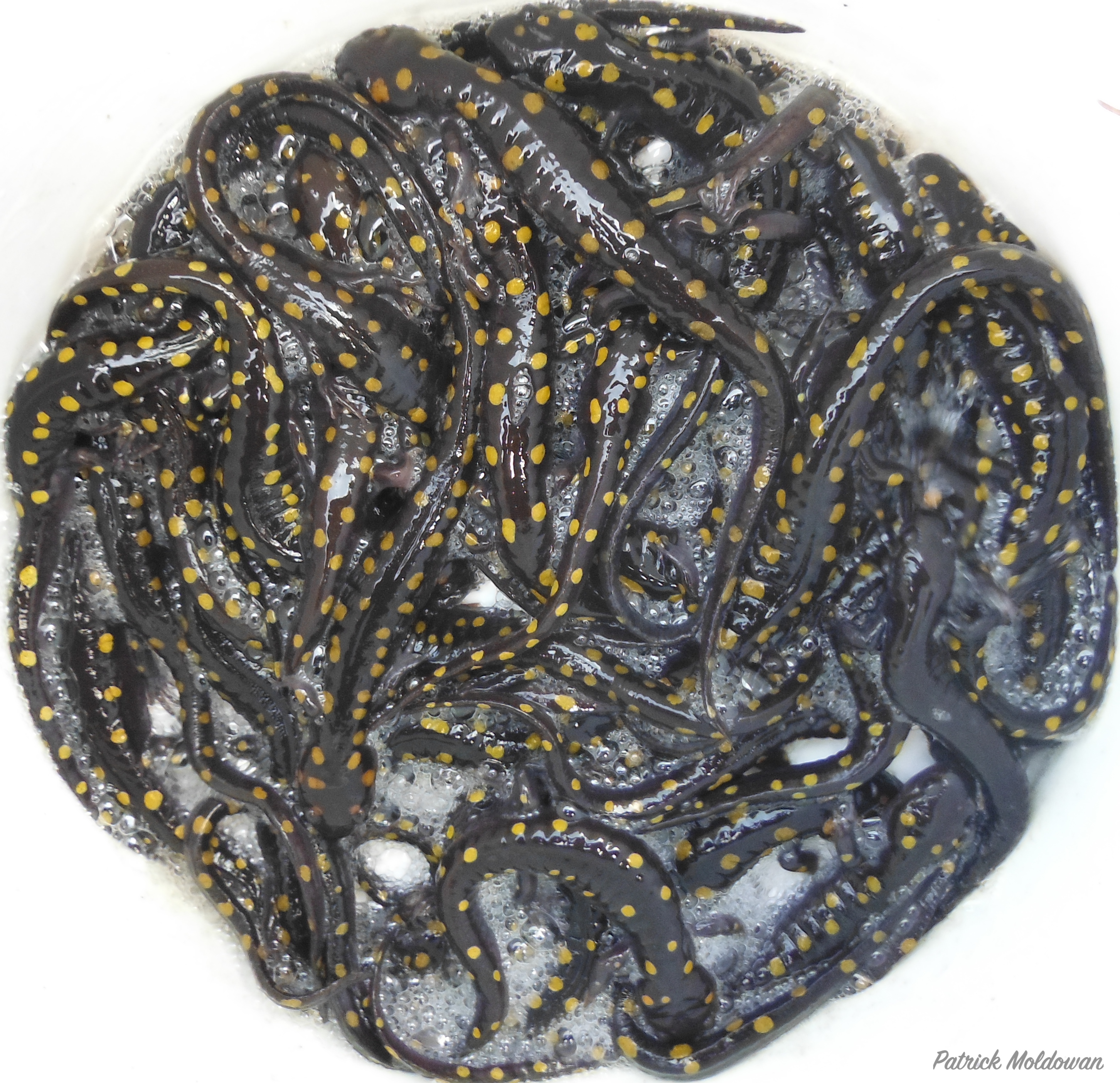 Citation
Moldowan, PD, Tattersall, GJ, and Rollinson, N. 2021. "Climate associated decline of body condition in a fossorial salamander". Global Change Biology. http://doi.org/10.1111/gcb.15766
Acknowledgements
Many thanks to all the folks at the Algonquin Wildlife Research Station for support over the years and to all the Salamanderers who took part in BLISS: DL LeGros, SP Boyle, O Butty, JWD Connoy, D Crawford, EA Francis, G H-Y Gao, N Hrynko, JA Leivesley, DI Mullin, S Paiva, D Ravenhearst, C Rouleau, M Terebiznik, H Vleck, L Warma, SJ Kell and T Wynia. There are so many others who have helped out over the years, and we hope we have acknowledged all their assistance in the paper acknowledgements!